Dear Relampago Families,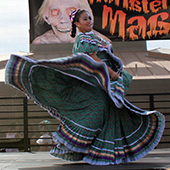 A huge thank you to those that came out to perform for the Dia de Los Muertos event at the OC Fairgrounds.  The performance was wonderful and congratulations to those performing for the first time!!  We are all very proud of you.
And of course, a heart felt thank you to Michelle, Mari and Mari's daughter for painting all our wonderful students.  They looked amazing and added the right touch for the event. There was no way we could have gotten every child painted so thank you again.
With that said, I did want to bring something to your attention.  I counted the payment received for the face painting and it covered about 24 students.  We know we had over 100 dancers performing so the math does not make sense.  I do know that some students painted their own faces but if I were to take a conservative guess I would say there were approximately 60 students that had their faces painted and I'm sure it was even a little more.
I also recognize that it was a rush to get everyone completed, so I'm thinking there were parents that may have missed paying in the rush of getting their child together.  If you were someone that did not pay to have your child's face painted, please come see me on Saturday to pay for the services.  The amount collected this past weekend barely covered the expenses of supplies.  I would like our artists to be compensated at least for some of their time. I appreciate your honesty in following up with this matter.
_________________________________________
Update for Noche de Altares event this weekend if your child is performing: 
12th Annual Noche de Altares
Saturday, November 1st, 2014 on 4th and Birch Streets,
Downtown Santa Ana – 1 – 10 p.m. (Ask Teachers for Call Times)
Students will perform at 3:00 p.m. on Main Stage located on Ross and Santa Ana Blvd.
• We will have (3) face painters available behind the stage located on Ross and Santa Ana Blvd. 
• Fee will be $6 for painting only and $10 if you want rhinestones added.
• There will be volunteers at each station collecting cash so please bring exact amount
• There will be regular class on Saturday so come prepared in the morning with your costumes and dance stuff so you can go to the painting stations right after your class.
• Remember parking is very tight so you will need to allow plenty of time to park and walk over to stage.
• All students must be painted first and if time permits parents or siblings can be done after.
Thank you again for your cooperation.  We are a very large group so it is important that we work together to support our students.
Marlene